Educational Seminars
MoneyMattersTM Educational Webinars


Upcoming Webinars:
Evaluating a Ford Special Incentive Program (SIP) Offer - June 27th 12:00 PM
Evaluating a Ford Special Incentive Program (SIP) Offer - June 27th 4:00 PM
Webinar Replays:
Optimizing Your Pension Benefits


Options for Your GM After-Tax Savings Webinar Replay


MoneyMattersTM Topics:
Social Security
Estate Planning
Protecting Your Identity
Health Care in Retirement
Planning for College
Life and Long-Term Care Insurance
Pension Lump Sum Decision
---
Featured Speaker: David Kudla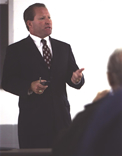 David Kudla is founder, CEO, and Chief Investment Strategist of Mainstay Capital Management, LLC, a fee-only, independent, Registered Investment Advisor with more than $2 billion under management. He has been ranked by Barron's as one of the "Top 100 Independent Financial Advisors" in the country for the past eight years, and in the top 25 for the past three years. Mainstay is recognized by Investment News as a "Top 30 Financial Planning Firm" nationwide. David is a Dow Jones MarketWatch Columnist and a contributing writer for Forbes. He is also President and Executive Editor of FIA Publishing, LLC, which publishes the "401k Investor" series of investment advisory newsletters. David regularly speaks at national conferences, conducts educational seminars, writes articles about retirement planning and investing, and advises thousands of workplace savings plan employees and retirees in the automotive industry. His insights into investments, the financial markets, and retirement planning are often sought out by prominent media sources worldwide. David has earned his Certificate in Financial Planning and two postgraduate degrees, including a Masters Degree in Management at Stanford University. He holds three U.S. patents and has a patent pending for Mainstay Capital Management's proprietary Waypoint Retirement Planning SystemTM. As part of his philanthropic activities, David founded and serves as the Executive Director of the ENGAGE® International Investment Education Symposium, the largest annual student investment conference in the world. He sponsors the MII Student Stock Pitch Competition held annually at the University of Michigan and serves as Program Co-Director of the G.A.M.E Forum annual student investment conference. David is an Adjunct Professor, serves on several university advisory councils, and is the sponsor of the largest student run portfolio at Stanford University. He is a member of TD Ameritrade's NextGen Advisory Board and serves on Guggenheim Investment's RIA Advisory Board. David is currently listed as one of the "Top 20 Most Social Financial Advisors in the U.S." as ranked by BrightScope's Social Media Influence Rank.
---
Mainstay conducts free on-site educational seminars on a regular basis to educate employees and retirees on how to better utilize their 401(k) plan. This includes explaining how the financial markets impact their investments, strategies for managing their 401(k) and other investment accounts, understanding investment portfolio risk and diversification, new tax law changes impacting their 401(k) and IRAs, as well as a range of retirement planning and investing topics.
To complement our on-site seminars, we also conduct online interactive seminars or "Webinars". This service allows us to conduct live, interactive seminars anywhere at anytime. These Webinars are free of charge and include a "live" question and answer session.

Schedule a Seminar at your location

Schedule a Webinar at your location
---
Kiplinger's Personal Finance
Is Your Pension Still Safe?
Wall Street Journal
Arguing Over Advice
Wall Street Journal
A Financial Adviser Bucks Star Power
Kiplinger's Retirement Planning
Create a pension backup plan
Wall Street Journal
How to Value the Buyout Offer
Oakland Press
Mistake could pay off for workers
ABC News Video
"Automotive workers seek advice on buyouts"